Make sure to take a look at My Weight Loss Blog Directory!!!
Chores, Chores, Chores
Don't you just love the smell of fresh linens? I like to pull the warm sheets and towels from the dryer and smell the fresh smell. That is probably why washing the linens is my favorite chore. I could wash sheets and towels every day. I think the whole house smells better when you have fresh linens.
Another favorite chore is cutting the weeds around my yard. Of course, that is a part of my gardening, which I love!
I am not crazy about mopping the kitchen floor. My floor is a dark walnut wood and it shows every spot. I need to clean it constantly. My dog goes in and out the back door so she has to walk on the floor when she comes in. My floor is beautiful when it doesn't have any spots on it. Rainy days and snowy days are bad because she tracks water in all day and spots it every time she walks across it. I need to teach her how to wipe her paws!
Which chores are your most and least favorite?
Here are my previous posts from the September Blog Challenge.
Please take a minute and see what we have been blogging about.
I love European Countries
Paris
Respect
The Definition of Advice
Quotes about Life
Good Books To Read
My Life Changing Blog Post
Why A Blogger
Summer Solstice
My Life
---------------------------------------------------------------------------------
I am blogging with the September Blog Every Day Challenge. Please come join us! It will be fun! Karissa has all the prompts on her blog at
Fresh Start On A Budget
.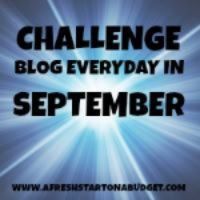 Tell me about your chores.