Make sure to take a look at My Weight Loss Blog Directory!!!
Twerk! Twerking! Whatever!
A week or so ago was the first time I had ever heard of twerking. I kept hearing about Miley Cyrus twerking. I had to look it up to find out what it was.
Unfortunately, that wasn't the last I heard of twerking! Since then I have seen someone twerking daily on some television show.
I was supposed to write about my pet peeve today. Well, my newest pet peeve is twerking. I just don't see any reason that I should have to see anyone's behind shaking at me. Many of those doing the twerking do not have the best looking behinds to begin with. It's beyond me why they feel comfortable putting it out there for everyone to see.
My Twerking Research
Apparently, twerking has been around for a while and they actually have songs and music for it.
While researching YouTube to find the video I attached I saw so many eye-opening videos about twerking. Did you know that people go to public places and video tape themselves twerking. Watch out! You could be in Wal-Mart and have someone start twerking(shaking their buns) in the bakery department or just shivering their backsides in the frozen food area.
Now if you decide to twerk it is really important to record yourself and put it on YouTube because there are millions of people that want to see you Twerk. Just don't catch yourself on fire. Oh, right that one wasn't real. Jimmy Kimmel faked that one.
http://www.youtube.com/watch?v=rHdiutY4XqA
I like this video. Take a few minutes to watch. It's not very long.
So do you twerk? Send a video please! Attach the link to your video in the comments because the world is waiting to see you twerk!
______________________________________________________
Here are my last five entries in the September Blog Challenge. You can find links to the previous ones at any of the links.
Chores, Chores, Chores
I love European Countries
Paris
Respect
The Definition of Advice
---------------------------------------------------------------------------------
I am blogging with the September Blog Every Day Challenge. Please come join us! It will be fun! Karissa has all the prompts on her blog at
Fresh Start On A Budget
.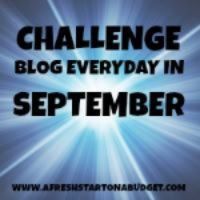 Don't forget to leave your Twerk link in the comments!