Make sure to take a look at My Weight Loss Blog Directory!!!
My Life Story
I was born in the middle of a cotton field in a small town in Missouri. Actually I wasn't born in the town just the middle of the cotton field. The doctor showed up to help with the birth and then went back and failed to record it. I was the eighth of nine children so my mom was used to birthin' babies.
When I was 10 and we lived in Indiana they decided I needed a birth certificate. Did you know when your birth hasn't been recorded you can't get a real birth certificate. Well, you can't. My birth record is a copy of court record with affidavits saying they could attest to the fact that I was born. Try getting a passport with that!!
Good thing we got out of Missouri! We moved back to Indiana when I was around 2 years old. I have lived in the good ole Hoosier state ever since.
The next major occurrence in my life was my first marriage. I got married at 17. It wasn't long into marriage that I started popping out kids. Three of them in under 6 years.
When my youngest was 2, disaster hit! My first husband was a police officer and he went to work one night and didn't come home. I will tell you more about this later in another prompt.
I raised the 3 kids until they were almost grown and then I married again. When I was moving in on 40 I decided to see if I could still have children. Why not?
So I had another one. Only 18 years after the last one. I guess I just wasn't ready for an empty house.
So the last 19 years have been really busy raising my youngest son. We have had loads of fun and done lots of traveling. He left for college a couple of weeks ago.
My husband and I have been trying to figure out how to deal with an empty nest. We think we have a plan!
The plan is to start dating each other again and act like we are in our twenties. Fun, fun, fun!! We are starting the next phase of our lives and hoping it lasts for an incredibly long time.
Blog Everyday in September Challenge
I have decided to accept the challenge! I will be blogging every day in September with Karissa from A Fresh Start On A Budget. Click on over there and check out the great prompts and join us.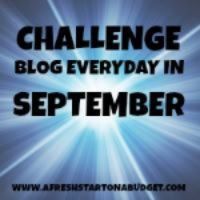 Some days I may post twice. I don't like having really long posts. I will be keeping up with my other posts along with the challenge.
The PINcentive Blog Hop
Tuesday is the start of our new Blog Hop. I hope you are planning on joining us. It is going to be so great!! The more people who join us the better it will be. Click on the button below and find out all about it!!